1st
Company to provide integrated storage services
of the largest Greek companies trust us
COMPANY
During the late 80's Christos Gialias being already an experienced worker launched his first participatory company in the field of warehousing, packaging and cleaning of industrial premises. At that time, the word "outsourcing" was unknown to many! Even now many sectors do not take the risk. However, "Athens 2004" Olympic Games came and justified his choices. Then, his company undertook exclusively the working staff that was occupied before and after each race in all venues of the Games, as well as the Special Olympics 2004 & 2011! Ever since, the beginning of an amazing course was a fact!
At the same time, being a former boxing athlete, his love of sports led him to become actively involved in professional football. Thus, judging by the result, he successfully took over the administration of the 2nd and 3rd League teams "Mandraikos", "Panelefsiniakos" and "AO Trikalon"
Anxious and resourceful as he is, in 2012, he decided to do something exclusively of his own in the primary sector, regarding meat and its derivatives. Katerina Farm Single – Member Company SA (www.farmakaterina.gr/shop/) is a pioneering company specialized, on the one hand, on the production of poultry through privately owned poultry farms in the region of Western Attica, and on the other hand in the import, processing and marketing of all types of meat and their derivatives. Its expansion into retail did not take long. The company created exceptional meat selling shops (delicatessen) and selected traditional products in key points of the prefecture of Attica (Glyfada, Penteli, Alimo etc). At the same time, the company expanded abroad, to Albania, Bulgaria & recently Italy. Based on this it entered the fast food and food delivery (www.e-food.gr/delivery/menu/to-kalamaki-toy-hristara) & (www.thelosouvlakia.gr/delivery) also in the field of high gastronomic experience (www.aventador.gr)
The deep knowledge but mainly the trust, the consistency, and the effectiveness of the name "Christos Gialias" in everything that he has undertaken all these years, is what created "Gi-express". The company provides workers of all warehouse specialties through an "Hourly Charging Project Contract", with free daily transport to and from the facilities of its customers, nationwide, by its more than 18 privately owned buses of all types. It also undertakes various packaging projects for dry cargo products at its premises in Magoula, Attica. Finally, through the privately owned fleet of Public Use trucks, it undertakes every transport project, no matter how large it is, whether it is refrigerated cargo or not, throughout Greece and throughout Europe. Always guided by the need to serve its customer from the first time and each time, the company undertakes the execution of all the warehouse works in the facilities of its customer always under its Management.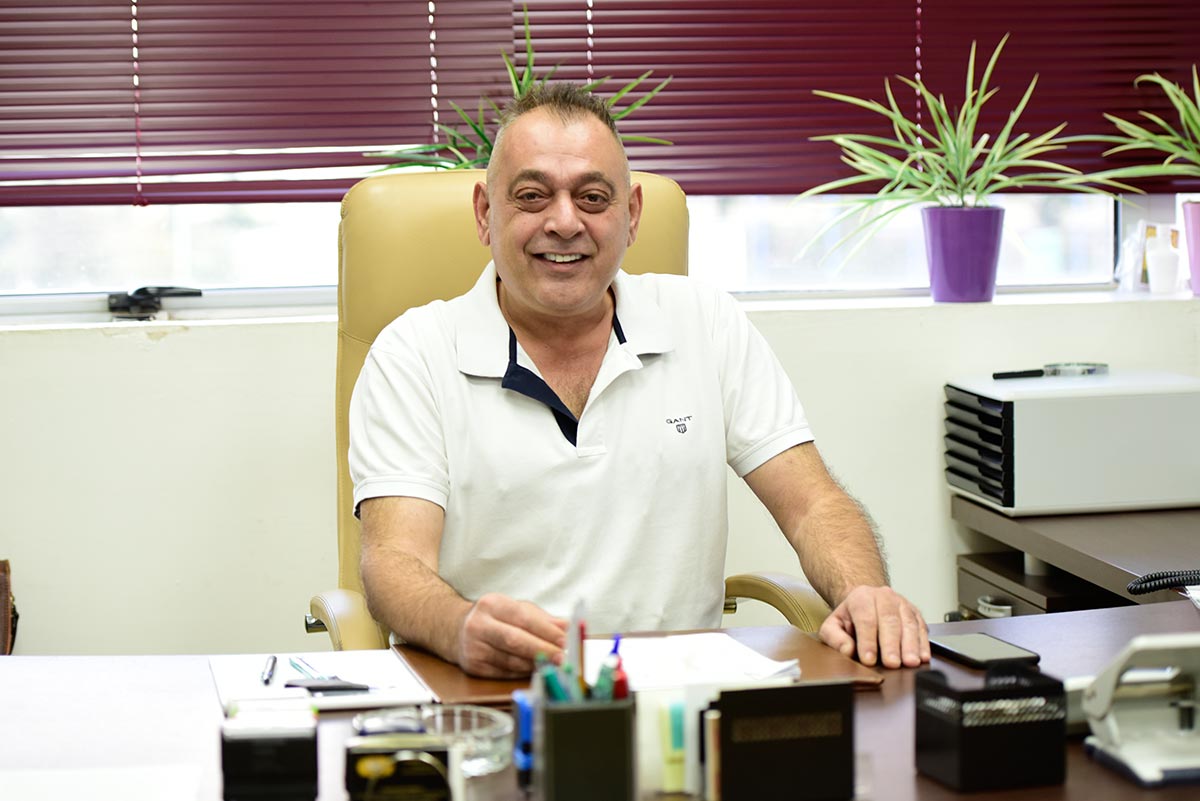 "Born and raised in Elefsis, I originate from Vessa, Chios. Having 3 children, our father, George Gialias taught me to look someone in the eyes and when I give my word to him to seal it with my hand! My signature is my hand, and my word is a guarantee! This is how I started and this is how I made my course until today with the help of Our Lady Mary. My father was one of the Presidents of the land unloaders association of "Ag. Dimitrios " in Elefsina. From there I started working as a worker doing any kind of work that the mind can put! My goal was to do what I say and deal with what others could not! So, I decided and became a pilot driver of heavy machinery that were in the port, with no. diploma PD / 31/1990. In this way I became necessary for everyone. Changing all the positions as a worker, I soon realized that if I could provide solutions immediately and consistently to the needs of each warehouse, which is the heart of the business, I could live!"
The values that characterize me are CUSTOMER - EMPLOYEE - QUALITY - TRUST - CONSISTENCY - IMMEDIATE RESPONSE - SPECIALIZATION - POSITIVE THINKING & MOOD. I want to transmit these values to my 4 children to be the basis for their own course. If there is one thing that characterizes me as a person, it is that when I say something, I do it! For me there is no "IT CANNOT BE DONE"! "IT CAN AND IT COSTS THAT MUCH"! This is the logic behind all my businesses, my entire team. It is no coincidence that for the past 20 years I am the only Greek company that can and will complete any warehouse project that will be requested of me! For all my clients I am their Partner, who has never betrayed them! My phone is available 24 hours 7 days. All our phones. It is no coincidence that I am the first nationwide company that can provide a solution to all the works of a warehouse within 12 hours. My word is a contract! Having a deep knowledge and experience in the field of all warehouse works, even the most demanding, we rely on the continuous evaluation and training of our employees. Through a multicultural and open-minded work culture, our vision is to become the first reliable choice of each of our Customers who immediately provide a solution to their needs in this field.
CUSTOMER – EMPLOYEE – QUALITY – TRUST – CONSISTENCY – IMMEDIATE RESPONSE – SPECIALIZATION – POSITIVE THINKING & MOOD.
These were – are and will continue to be our values. For us there is nothing in the field of all the warehouse works that we do not know or do nοt want to know and conquer.
On these values we have relied so far and in these we will continue to invest.
YOUR POWER OUR STAFF
That is our only goal! To feel us as Partners in your every need in the field of warehouse works, either through the provision of our staff on your premises, or by undertaking complex packaging and repackaging projects, but also through the specialized transports of your products and materials to and from your facilities or at any of your partners facilities. The holistic solution to your needs with constant control and your guidance is our priority.
The Customer for us is the "King"! It is our goal to always keep our customer satisfied from the first time and every time he chooses us. Our adaptation to his needs is for us the driving force so as "OUR STAFF to always be HIS POWER".
Our Customer's Satisfaction is our only goal as a Partner. To achieve it, we are by his side from the first moment as a company, listening to his needs, giving an IMMEDIATE and EFFECTIVE solution, if requested. However, due to our experience, we do not hesitate to propose changes or an innovative rationale for his work. The decision is always his and we make sure to implement it always based on cost reduction and maximum satisfaction.
Offices
«Gi Express» currently has offices at Attica (Magoula) next to Attiki Odos and the Athens – Corinth National Highway, at the hub where Southern Greece intersects with Northern Greece, next to the ports of Piraeus & Elefsina.
Warehouse spaces
At Magoula in Attica «Gi Express» has leased warehouse spaces of up to 7000 m2 and 5500 pallets with a capacity of handling merchandise on shelves or on the floor with all the relevant available Logistics (ramps, Clarks [forklifts] etc.).
These facilities at a separate – distinct area also accommodate our lines for packaging – re-packaging & labelling all types, and also on a 2nd level all the packaging material belonging to us or our customers.
Equipment
The necessary mechanical equipment that we use meets all the safety requirements, is systematically maintained and checked in order to ensure its smooth operation.
Safety and Hygiene
At Gi-Express we place special emphasis on the compliance with the applicable health and safety regulations (OSH) for our employees (Law 1568/1985, as well as harmonization of the relevant Greek legislation with the EU (89/391 / EEC and 91/383 / EEC (P.D. 17, 18.1.1996, FEK 11 / A) as well as in our facilities.
Our Safety Technician as well as the Occupational Physician take care of the compliance with the regulations both in our facilities and in the facilities of our clients to whom we provide staff. Specifically, for this part, they cooperate where necessary with the counterpart partners of our Customers. Recently, due to the pandemic, we provide our staff, in addition to the necessary PPE, additional masks and hand antiseptic, along with the necessary control for non-covid-19 disease.
INDICATIVE CLIENT LIST
The «Gi Express» company based in Magoula of Attica and branches at Oenophyta of Boeotia, as well as Thessaloniki, has in excess of 150 active clients, the largest companies in their sector, as well as in the sector of: